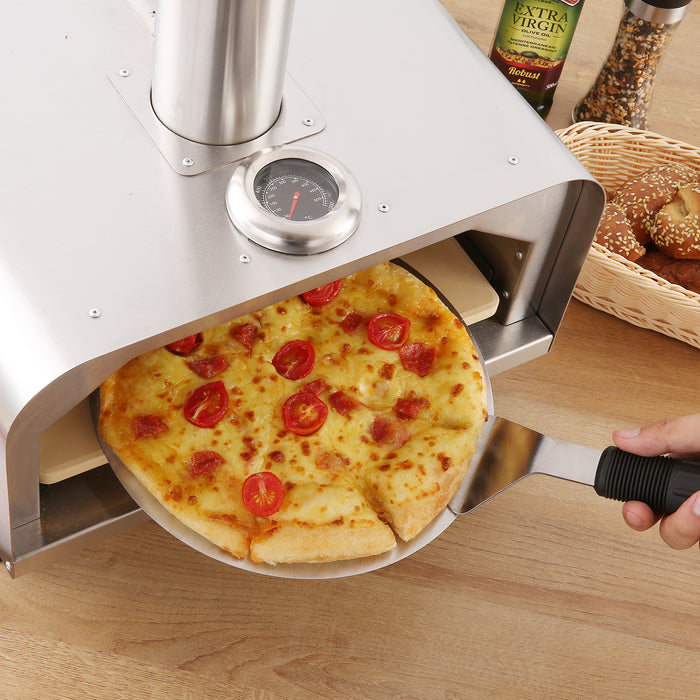 Tired of frozen pizza and longing to make yourself unique, homemade pizza? Desiring to enjoy a piece of great pizza outdoors? Fremont wood fired pizza oven is your best choice. With Fremont, you can make a great wood-fired pizza of any kind of flavors on your own without dealing with a heavy stone or complicated system.
This portable pellet pizza oven weighs only 31 lb. thus you can take it easy outdoors anywhere. Cook up a storm in your backyard or bring it along to the park, mountains, beaches and anywhere else you can think of! Thanks to being fueled directly by fire, it only takes 15 minutes to heat up the cooker and 3-4 minutes to cook the pizza perfectly---delicacies needn't wait long. 
Start baking pizza with a Fremont wood-fired pizza oven today with our Pizza Ortolana recipe and enjoy your meal in under 10 minutes!
Features
Portable Designed - The Fremont boasts a highly convenient design, with its lightweight construction and portability making it the perfect outdoor companion. Whether you're tailgating, camping, or simply enjoying a day at the park, you can take the Fremont with you wherever you go.
Special Taste From Smoky Wood - Unleash the full potential of your culinary creations with the special taste of wood-fired smokiness. The use of hardwood pellets as fuel imbues your dishes with a unique flavor and aroma that can't be replicated in conventional ovens. Elevate your cooking game and experience the difference of smoky wood with the Fremont.
High Temperature and Fast Cooking - Cook with speed and precision with the Fremont. The oven's high temperature capability of up to 900 ℉/ 482 ℃ allows you to cook a perfectly crispy, delicious pizza in just 3-4 minutes. Enjoy restaurant-quality results with this versatile and efficient oven.

Easy to use and consistent. Pellets are amazing in that they light up easily, burn efficiently and leave very little ash behind. Your wood-fired pizza oven's high temperature will stay consistent as long as you remember to top up the pellets. 
Multiple Uses - Unleash your culinary creativity with the versatile Fremont oven. With the included accessories, you can cook a wide range of dishes, from mouth-watering pizzas to juicy steaks, succulent fish, flavorful sausages, and more. The options are endless, so don't limit your imagination. Transform the way you cook and experience the versatility of the Fremont oven.
Easy Clean - Enjoy effortless maintenance with the Fremont oven. Its modular design features a detachable chimney pipe, oven body, door, handle, firebox, and pizza stone, making cleaning a breeze. Simply detach the components after use and wash them separately for a hassle-free clean-up experience.
What Does The BBQ Guru Say About
Details
| | |
| --- | --- |
| Style | Propane Infrared Grill |
| Model | GB040B |
| Material | Stainless Steel |
| Fuel | Natural or Flavored Pellet Fuel |
| Max Temperature | 800°F |
| Assembly | Not Required |
| Warranty | 1 Year |
Dimensions
| | |
| --- | --- |
| Height | 31.9" |
| Width | 15.4" |
| Length | 29 " |
| Weight | 31 lbs |
What's included?
1 x 13" Cooking Pizza Oven Grill

1 x Removable Door with Handle

1 x Pizza Stone

1 x

 

Pellet Scoop

1 x Pizza Shovel