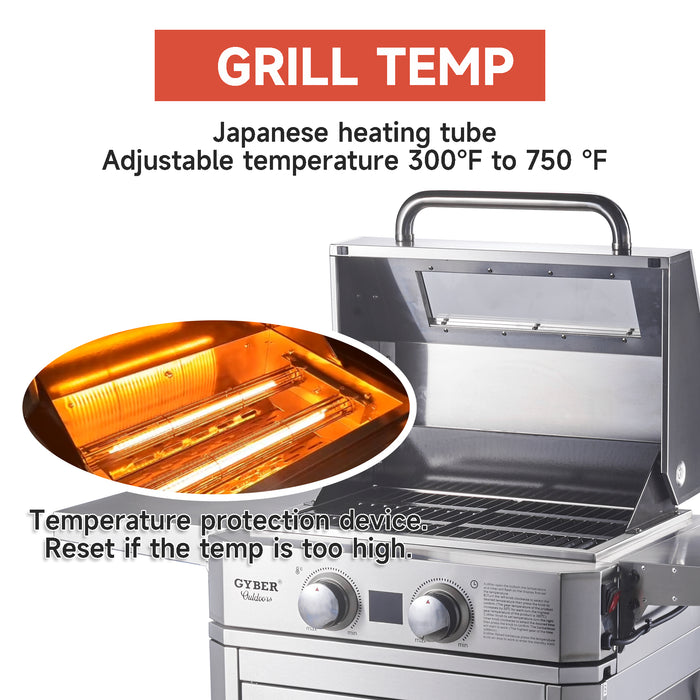 Electric Grills with Stainless Steel, LED Screen, Viewing Window, Folding Tables, Removable Nonstick Grate, Adjustable Temperature
Features
Electric Powered: The heating tubes, made in Japan, can reach a high temperature of 716°F, allowing you to bake with the lid closed up to 662°F. To ensure safe use, this feature also includes an overheating protection device. If the temperature exceeds the safety threshold, the device will automatically restart, providing peace of mind while you cook.

Visual design: The viewing window and LED display make it easy to keep track of your food as it bakes, giving you confidence and control over the cooking process. The rotary switch of the oven allows you to easily adjust the time and temperature, ensuring that your food is cooked to perfection.

More Space: There are two foldable side tables that provide ample work space for food preparation or serving. The lower part of the grill features a cabinet, perfect for storing your grilling seasonings and other supplies.

Easy Cleaning: You to easily remove the baking frame and reflective sheet for thorough cleaning. The design ensures that cleaning is quick and convenient, allowing you to spend more time enjoying your meals and less time worrying about cleaning up.

Bake, Roast, Grill & Sear: Whether you're cooking indoors or outdoors, this feature provides versatility and versatility in your cooking. The portable design allows you to easily move the grill to any location, giving you the freedom to cook anywhere, anytime. With the ability to grill a variety of foods including meat, pizza, seafood, and more.
Details
| | |
| --- | --- |
| Style | Portable Electric Grills |
| Model | Alder |
| Material | Stainless Steel |
| Fuel | Electric |
| Max Temperature | 716°F |
| Assembly | Not Required |
| Warranty | 1 Year |
Dimensions
| | |
| --- | --- |
| Height | 42.12" |
| Width | 19.29" |
| Length | 44.09" |
| Weight | 76.94 lbs |