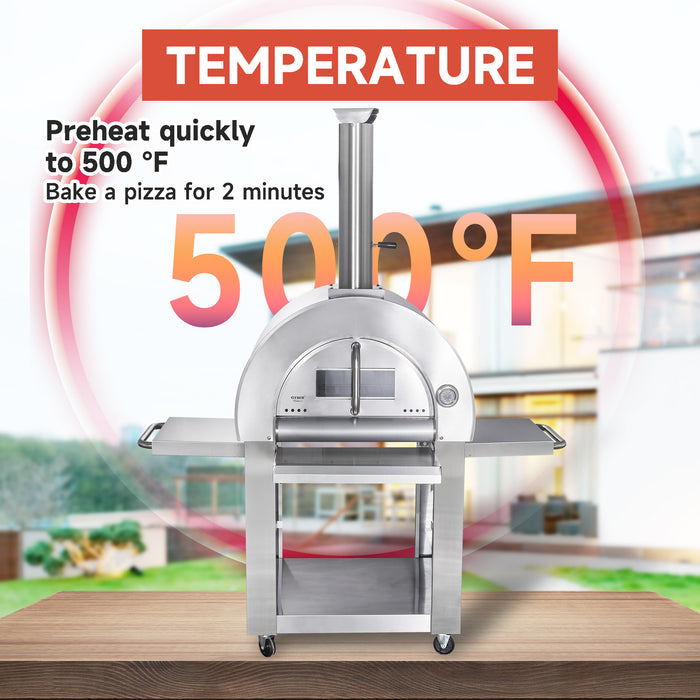 Portable Wood Fired Stainless Steel Pizza Maker Grill for Backyard
Features
Large Size: Boasting a generous 22" x 8" x 2 and 15" x 9.5" pizza stone surface. The set includes 3 pizza stones, providing ample room for multiple pizzas or other dishes. With a weight of 147.7 Lbs, this feature is both sturdy and efficient, allowing you to bake pizzas and meats simultaneously for optimized results. The Large Size feature makes it easy to create delicious, perfectly baked dishes every time.
Wood & Charcoal Powered: Simply preheat the pizza stone for 20 minutes, and when the temperature reaches 500℉, you're ready to start baking. With a quick 2-minute baking time, you can enjoy perfectly cooked pizzas in no time. The feature allows for precise temperature control, with higher temperatures closer to the burn position for a crispy crust and evenly cooked toppings. Makes it easy to enjoy delicious, wood-fired pizzas right in your own backyard.
More Space: Offering ample storage options for your ingredients and supplies. The grill features foldable side tables on the left, right, and front, allowing for easy storage and freeing up valuable space. You'll have plenty of room to keep your food, spices, and any other necessary items within reach and organized. This feature not only enhances your grilling experience but also makes it easy to keep your outdoor area neat and tidy.
Visual design: Offering a thermometer and a glass window front door for effortless monitoring of your baking progress. The thermometer accurately displays the temperature inside the oven, allowing you to make precise adjustments and achieve perfect results every time. The glass window front door provides a clear view of the baking process, so you can easily check the status of your food without opening the oven and releasing heats.
Bake, Roast, Grill & Sear: The entire body of the oven is constructed from food-grade stainless steel, providing a durable and safe surface for cooking a variety of foods, including meats, fish, and vegetables. Whether you're looking to bake a delicious casserole, roast a succulent chicken, grill juicy burgers, or sear sizzling steaks, this feature allows you to create a wide range of dishes with ease.
Details
| | |
| --- | --- |
| Style | Outdoor Pizza Oven |
| Model | Kenya |
| Material | Stainless Steel |
| Fuel | Wood & Charcoal |
| Max Temperature | 500°F |
| Assembly | Not Required |
| Warranty | 1 Year |
Dimensions
| | |
| --- | --- |
| Height | 71.65" |
| Width | 44.56" |
| Length | 61.81" |
| Weight | 147.7 lbs |