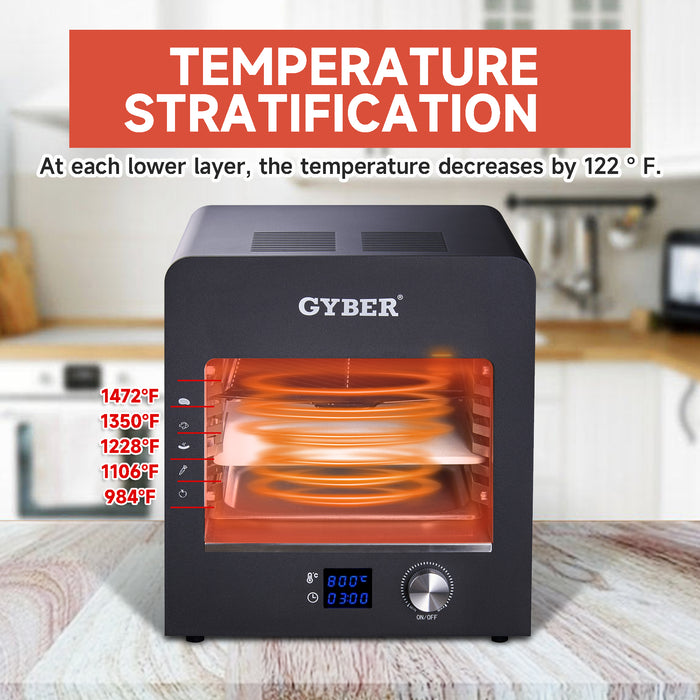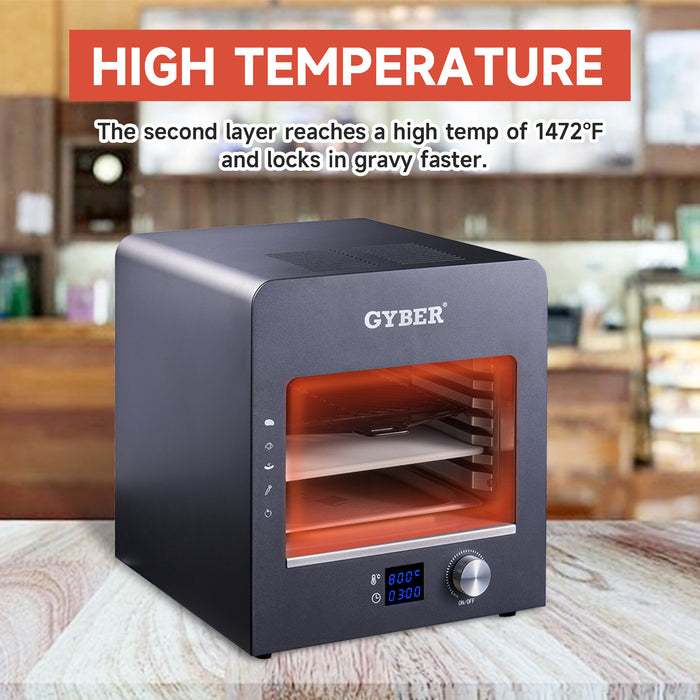 Multi-Layer Temperature, Adjustable, View Window, LED Digital Display, Bake, Broil, Toast, Steam, Rotisserie For Home, Outdoor
Features
Electric Powered: Powered by an efficient 110V voltage, producing a powerful 1800W. The oven can reach a maximum temperature of 1562℉, ensuring that your food is cooked to perfection. Additionally, the second layer of the oven can reach a temperature of 1472℉, which locks in the gravy of your food faster. The temperature difference between each layer is 122℉, which decreases from layer to layer, giving you precise control over the cooking process.

NOTE: To prevent dry burning and protect against accidents, place an oil plate on the bottom of the oven and add water or vegetables.

Visual design: The oven features a clear viewing window and an LED display, allowing you to monitor the cooking process at a glance. The digital display shows the cooking time and temperature, helping you achieve the perfect results every time.

Pizza oven: The second layer of the oven is specifically designed for baking pizza with its built-in pizza stone. Simply preheat the stone for 5 minutes, wait until it reaches the optimal temperature of 482-572°F, and place your pizza on the stone for baking. This will result in a crispier bottom crust and melted cheese on top, giving you that perfect pizza experience.

Bake, Roast, Grill & Sear: The oven is versatile and can be used for a variety of cooking styles. Whether you're cooking indoors or outdoors, it's portable and can be used anywhere. You can bake, roast, grill, and sear a variety of foods such as meat, pizza, seafood, and more.
Details
| | |
| --- | --- |
| Style | 1800W Electric Oven |
| Model | Ervine |
| Material | Carbon Steel |
| Fuel | Electric |
| Max Temperature | 1562°F |
| Assembly | Not Required |
| Warranty | 1 Year |
Dimensions
| | |
| --- | --- |
| Height | 14.96" |
| Width | 14.96" |
| Length | 14.17" |
| Weight | 31.53 lbs |