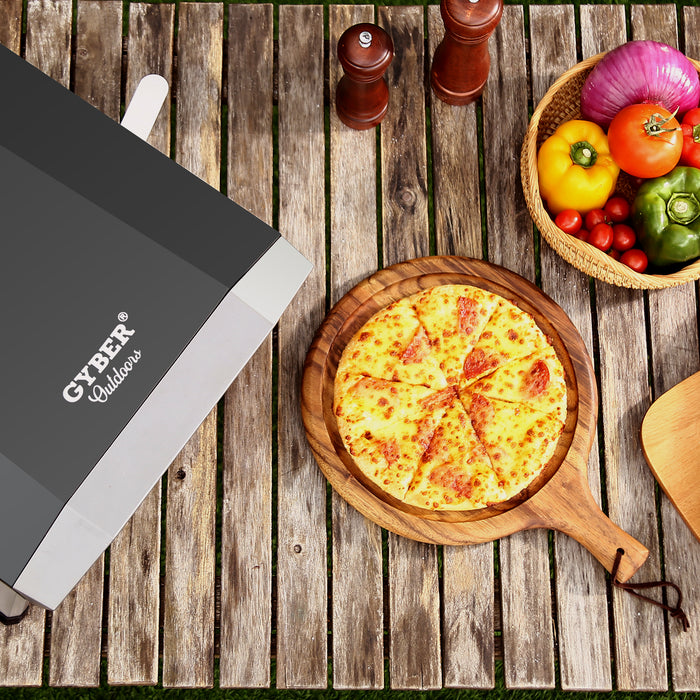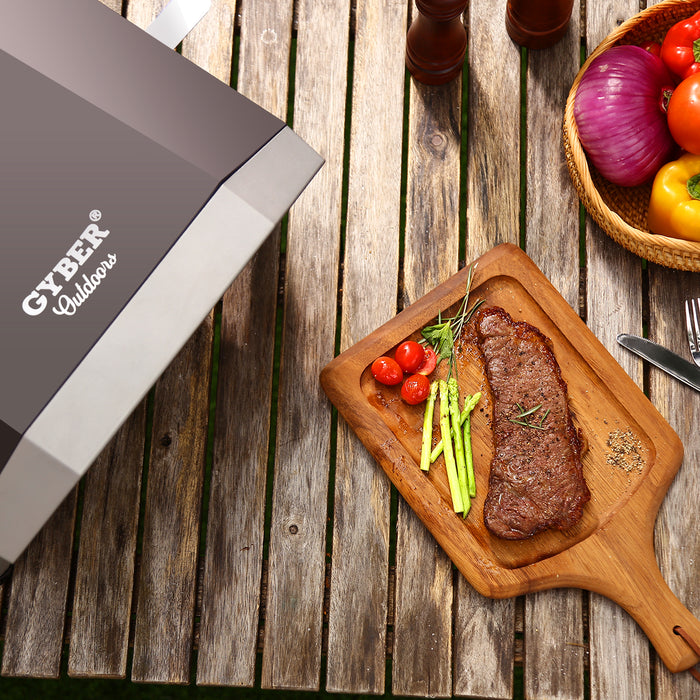 13 inch Portable Stainless Steel Propane Pizza Stove Backyard Family Pizza Maker with Rotating Stone - Global Patent
Revolutionising Rotatable System
Our patented rotatable pizza stone system sets our oven apart from ordinary pizza ovens. With a manual handle, you can rotate the stone to evenly heat your pizza or beef and prevent burning.
Features
[Portable Outdoor Gas Pizza Oven] - The newest gas pizza baking oven, designed for the great outdoors, brings the taste of fresh, hot, delicious pizzas to your backyard, the beach, or any outdoor gathering place. Lightweight and easily transportable, this oven lets you cook with ease and serve mouth-watering meals to your family and friends.

[Super Fast Baking & Rotatable Device Design] - This outdoor gas pizza oven is designed for fast and easy cooking, so you can make multiple pizzas in just minutes. With a preheat time of only 8-12 minutes and a cook time of just 90 seconds, you'll be serving delicious, perfectly cooked pizzas in no time. The bottom rack can be easily rotated by hand to guarantee even baking and prevent burning.

[Pizza Oven & Accessories] - This gas pizza oven comes with a 13-inch round cordierite pizza stone that can handle extremely high temperatures (up to 2200℉). The stone has excellent stability and can withstand a lot of heat. It helps create the perfect pizza crust by removing excess moisture and keeping the inside of the pizza moist and fluffy.

[Easy to Install, Operate] - Assembly and installation take just minutes and require no tools. Comes with a 1.2 meter gas pipe (5/8-18UNF gas outlet thread). Quick and easy way to cook fresh or frozen pizza!

[Best Gift for BBQ Pizza Lover & Camper] - The GYBER outdoor pizza oven is effortless to use for both professional and amateur pizza makers, even for those new to it. It makes for the perfect gift for any pizza enthusiast. With it, you can experiment with all your favorite recipes and bake bread, chicken tenders, shrimp, cookies, pies, and any other pastry to perfection.
Details
| | |
| --- | --- |
| Style | Outdoor Gas Pizza Oven |
| Max Temperature | 935°F |
| Model | Mateo |
| Assembly | Not Required |
| Material | Carbon Steel & Stainless Steel |
| Warranty | 1 Year |
| Fuel | Propane Gas |
Dimensions
| | |
| --- | --- |
| Height | 8.3" |
| Length | 31.5" |
| Width | 17.7" |
| Weight | 29.8 lbs |